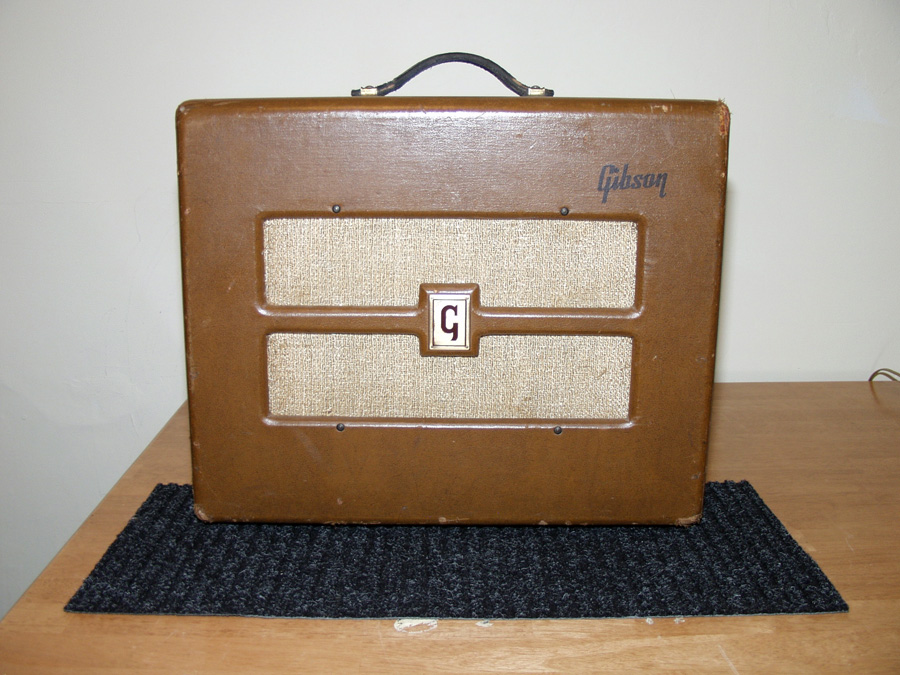 Introduced by Gibson in 1950, the GA-20 was a two-channel, 12″speaker combo of 12-14 watts that is much sought after for its warm, bluesy tone and surprising volume for its small size. This amplifier is also noted for its nice compact "luggage" styling with a brown leatherette covering over a solid redwood cabinet, with a distinctive thin bar and a brown "G" logo over light brown grille cloth, along with a dark brown Gibson script logo on the upper right. It measures 20″wide x 17″high x 7.25″depth, and weighs roughly 20 lbs, making it a very gig-friendly little combo with a big brown tube sound to match its great looks. It retailed for $110–a princely sum in the early '50s., but well worth the price.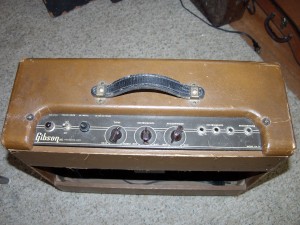 The GA-20 was the first Gibson amp to feature a top mounted, rear facing control panel, making it more user friendly than a rear bottom mounted chassis featured in previous models. Three instrument inputs (all voiced alike) go into one channel and a higher gain microphone input is used to great effect by guitarists who want a more overdriven sound, as was often the case in these early two channel amps. Each channel has its own volume control, along with one tone control that is shared by both channels. Produced from 1950 to 1953, 5,117 of these fine amps were shipped from the Gibson factory in Kalamazoo.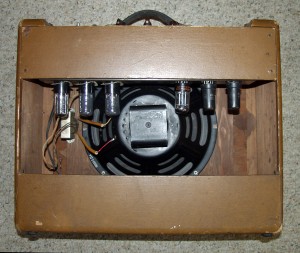 This is a twin tube 6V6GT powered amp, with a 5Y3 power rectifier, putting out a solid 14-16 watts. The preamp features two 6SJ7 tubes, one for each channel and a 6SL7 phase inverter tube.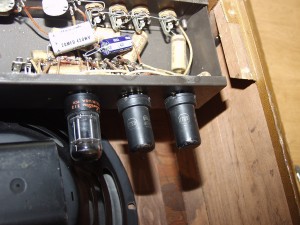 The 12″ speaker was an 8 ohm Jensen Alnico 5 PM Concert Series, either a P12R or P12Q as in this example (a replacement dated from 1955). The output transformer in this example is mounted on the baffle–often they were mounted directly to the speaker.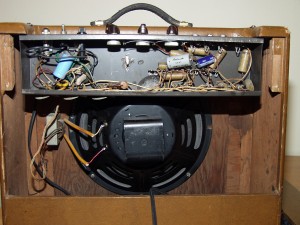 A simple yet effective chassis of handwired point-to-point craftsmanship is the hallmark of this amp.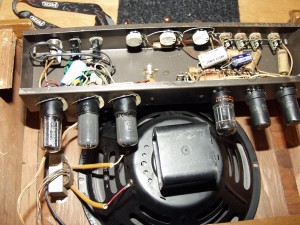 View a pdf of this amp's schematic GA_20